Automatic Wet Mix Plant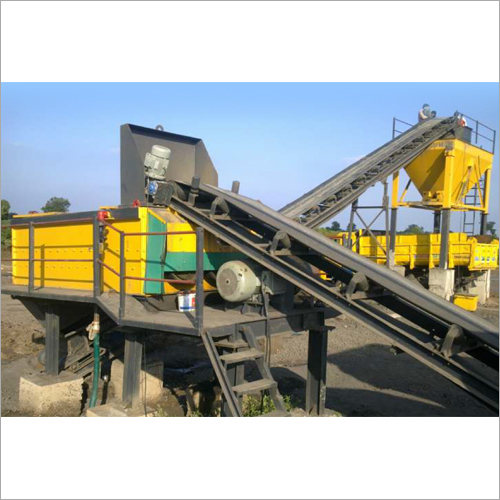 Automatic Wet Mix Plant
Product Description
As a reputed manufacturer and supplier of the qualitative range of machines and plants, here we are supplying Wet Mix Plant which is made by using required materials with the help of sophisticated technology. It is known for its less force utilization, high productivity and low support. This plant is utilized at building destinations for blending of development materials. Offered Wet Mix Plant is demanded in the market for its attributes like high blending proficiency, predictable execution and strong development.
WMM Consist of:
Four bin aggregate feeder
Load out conveyor
Storage hopper
Control panel
Single deck vibratory screen
Collecting conveyor
Pug mill
Water tank
SILENT FEATURES:
Alloy steel Ni-hard tips for paddle arms that can be adjusted and replaced if required.
Special alloy steel liner plates are corrosion and abrasion resistant. These plates require less power and can be replaced if required.
Heavy duty structure is used for all conveyor structures.
Better blend and fluent discharge of blended material.
Solid construction, world-class components are precisely engineered for base course applications.
Uniform blending and delivery of blended materials without separation.
Accessories and controls for all kinds of additives such as cement, emulsion, lime, etc.
Accurate proportioning and mixing of aggregates and additives for proper graded materials.
Specification
| | |
| --- | --- |
| Auxillary Drive Motor | 2,2 kW |
| Brand/Make | Nilang |
| Model Name/Number | WMM 250 |
| Country of Origin | Made in India |
| Water Tank Drive Motor | 5.5 kW |
| Water Tank Capacity | 18 m3 |
| Total Connected Load | 80.8kW |
| Total Capacity | 40 m3 |
| Recommended Genset Capacity | 150 KVA |
| Rated Output | 250 TPH |
| Pug Mill No. of Paddle Arms | 64 Arms |
| Pug Mill Drive Motor | 45 kW |
| Pug Mill Capacity | 3 m3 |
| Over Size Removal Screen Drive Motor | 2.2 kW |
| Open Land Requirement | 50 x 35 Metre |
| Number of Bins | 4 Bins |
| Mesh Size | 65 x 65 mm |
| Gathering Drive Motor | 5.5 kW |
| Gathering Conveyor Belt (W x L) | 600 x 36880 mm |
| Filler Silo Capacity | 28.5m3 |
| Feeding Capacity | 260 TPH |
| Feeder Charging Width | 3.6 mtrs |
| Conveyor Drive Motor | 5.5 kW |
| Conveyor Belt (W x L) | 600 x 15025 mm |
| Connected Load | 4.5 kW |
| Bin Vibrator (1 No.) | 0.18 kW |