Bitumen Sprayer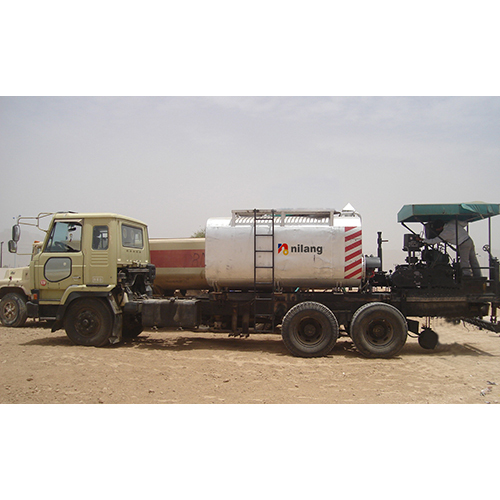 Bitumen Sprayer
Product Description
We are involved in the process of manufacturing and supplying wide range of various machines to our esteemed clients. Here we are providing Bitumen Sprayer that is made from perfect quality of required material with the help of modern technology which ensure the excellent performance and long service life of the same. The delivery of this Bitumen Sprayer is done by us at a reasonable price rate without any kind of delay.
Salient Features
Completely insulated tank
Bitumen tank cladded with Stainless Steel / Galvanized Iron sheet with Cera / Glass wool
Air-cooled diesel engine and positive displacement gear pump that consume low fuel
Foldable Spray bar
Hand spray bar
Suits standard truck chassis
High efficiency heating system
Safety and convenience in operation
Unique pressure cleaning system
COMPONENTS OF BITUMEN SPRAYER:
Air compressor
Completely insulated galvanised or stainless steel sheet built bitumen tank comes with an automatic burner that heats the bitumen at desired temperature.
Bitumen pumping system comprises positive displacement gear pump, bitumen lines as well as valves.
25 H.P. air cooled two-cylinder engine.
Foldable spray bar with standard 2.5 mtrs. width that can be extended up to 4.2 mtrs. is fitted with pneumatically operated and adjustable nozzles fitted at standard pitch of 225 mm. At 0 - 6 kg/sqm pressure, spray bar delivers bitumen.
Manual hand spraying attachment
Bitumen sprayer incorporates automated and operational controls that make the equipment rugged, convenience to use and maintain. Based on the asphalt parameters requirement per unit area for a task, the automation is decided. Also, asphalt flow is automatically controlled on the basis of the speed of the truck.
Cleaning system to prevent clogging post use.
Specification
Model

NBD - 4000

NBD- 6000

NDB - 8000

NBD - 10000

Tank Details

Length - L

2400 mm

3000 mm

4000 mm

4400 mm

Width - W

2108 mm

2108 mm

2108 mm

2208 mm

Height - H

1708 mm

1708 mm

1708 mm

1758 mm

Capacity

4000 ltr

6000 ltr

8000 ltr

10000 ltr

Manhole

600 mm

600 mm

600 mm - 2 Nos.

600 mm - 2 Nos.

Insulation

50 mm

50 mm

50 mm

50 mm

Shape

Elliptical

Elliptical

Elliptical

Elliptical

Burner

Type

Compressed Air Type

Compressed Air Type

Compressed Air Type

Compressed Air Type

Burner Fuel Tank

50 ltr

50 ltr

50 ltr

50 ltr

Engine Fuel Tank

20 ltr

20 ltr

20 ltr

20 ltr

Service Tank

20 ltr

20 ltr

20 ltr

20 ltr

Recommended Chassis

Wheel Base - WB

148 inch

176 inch

182 inch

198 inch

Clear Chassis Length - CL

5000 mm

5600 mm

6600 mm

7000 mm

Min. Height of Chassis - CH

1150 mm

1150 mm

1150 mm

1150 mm

Bitumen Pump

Internal Gear Pump

Internal Gear Pump

Internal Gear Pump

Internal Gear Pump

Driving Unit

Engine Model

Kirloskar HA 294

Kirloskar HA 294

Kirloskar HA 294

Kirloskar HA 294

Engine Output

18.5 kW 2000 rpm, Air Cooled

18.5 kW 2000 rpm, Air Cooled

18.5 kW 2000 rpm, Air Cooled

18.5 kW 2000 rpm, Air Cooled

Air Compressor

Twin Cylindered, 2.25 kW

Twin Cylindered, 2.25 kW

Twin Cylindered, 2.25 kW

Twin Cylindered, 2.25 kW